Hudson Valley Business Journal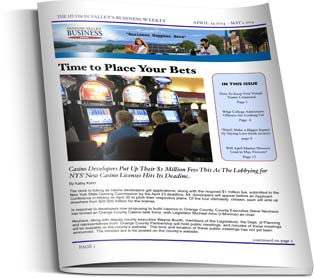 About Hudson Valley Business Journal
Hudson Valley Business Digital is an integrated digital platform for delivering business news, resources, "best practice," special features, blogs and other business related information to a readership of approximately 20,000 small business owners and key decision-makers in corporations , financial services, government, healthcare, media, real estate, energy , education and non profit organizations. primarily located in the New York State's Hudson Valley ( Westchester to Albany Counties).
Each issue of the eJournal contains special features and photo essays highlighting what it's like to live and work in the valley, in addition to our regular columnists and commentary and the "On Topic" section schedule.
This past year, our new all digital version of the Hudson Valley Business Journal has gotten off to a good beginning, thanks to the continued support of the companies who agreed with us that having an independent B2B forum in the region was important to our business community and it's long term vitality.
Let's make a deal…Call us today!
Advertising in Hudson Valley Business Journal