Family Practice Management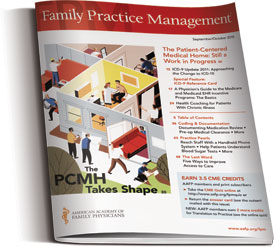 About Family Practice Management
Family Practice Management, published by the American Academy of Family Physicians (AAFP), provides family physicians the tools and information they need to improve every aspect of their practice, from patient satisfaction to their own job satisfaction and from collections to clinical care. Family Practice Management aims to help readers practice efficiently, get paid for what they do, achieve the best possible clinical outcomes and still get home in time for dinner.
Family Practice Management is received by family physicians and other allied healthcare professionals through paid print subscriptions and an opt-in digital edition.
Advertising in Family Practice Management
Medical Products and Medical Services Advertising
List business products & services as well as medical equipment in the Family Practice Management Marketplace.
Physician Classified Recruitment Advertising
By recruiting Family Physicians in the Family Practice Management Classifieds you are reaching a qualified audience.
CME Course Advertising
Advertise Medical Education opportunities under a dedicated category heading.
Ask about the FAMILY BUY discount package when you add American Family Physician to your advertising schedule.
Interested in online physician recruitment? Learn more about the AFP/FPM CareerCenter job board.