British Heritage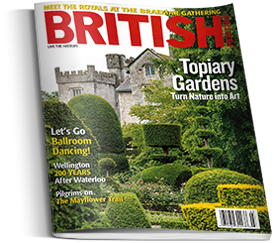 About British Heritage
British Heritage is the magazine of travel and life in England, Scotland and Wales, British Heritage is written for those who love Britain. A must-read for serious Anglophiles who know their way around Britain's history and landscapes.
British Heritage is published 6 times per year with a rate base of 23,000. Approximately 35% to 40% of British Heritage readers travel to Britain in a given year.
Advertising in British Heritage
British Crafts & Gifts
Advertise British crafts or cultural gifts.
British Collectibles & Antiques
Advertise British collectible items.
British Books
Advertise British historical fiction and nonfiction novels to readers with an interest in regional culture.
Direct response advertising is offered run-of-book for one-third page and larger display ads. The Marketplace section consists of display ads up to one-sixth page and word ads run in the Classifieds section.