American Family Physician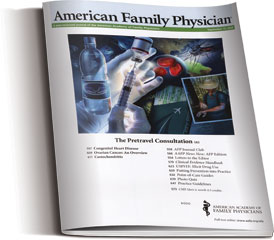 About American Family Physician
American Family Physician (AFP) is the official clinical publication of the American Academy of Family Physicians (AAFP).
American Family Physician is widely acclaimed as the number one journal in readership among family physicians. With more than 173,000 in qualified circulation, including medical students, it can help you recruit the doctor you need, promote your CME offering or introduce your medical products and/or services.
Advertising in American Family Physician
Physician Classified Recruitment Advertising
Recruit candidates in the American Family Physician Classified section. Reach a qualified readership in this leading industry journal.
CME Course Advertising
American Family Physician is a trusted resource for CME opportunities. List your medical education class, conference or paper in the dedicated Continuing Medical Education section.
Medical Products and Medical Service Advertising
List medical products and services to a physician readership in print or online with American Family Physician.
American Family Physician's Classified section is the largest and most comprehensive resource of family medicine opportunities published in any medical journal and provides a targeted location for delivery of your products or services. Take advantage of our FAMILY BUY package when you add Family Practice Management to your advertising schedule.
Interested in online physician recruitment? Learn more about the AFP/FPM CareerCenter job board.